Q1 in 2023 – life as a headshot and creative team photographer in Oregon
Quarter one brought a wonderful array of clients through the doors of Zing Sherwood, and several location projects to keep me on my toes. Scroll down to see the wide range of creative individuals I got to photograph for headshots, branding, events, and press kits so far this year.
In January, I photographed Adam Eccleston, a flautist and radio host I have enjoyed getting to know first through his work with All-Classical Portland (notably, the Recording Inclusivity Initiative) and then as he took the stage with various musical ensembles in the Pacific Northwest. When I saw Adam was headlining on a program at Beaverton's Patricia Reser Center for the Arts with the Portland Chamber Orchestra directed by Yaacov Bergman I took that opportunity to get a photo of him in the Reser- one of my new favorite spaces.
This is my favorite image from Q1. Very odd choice since I am by no means a fine art "landscape" photographer. What makes it interesting to me is the architectural layering, and the lone server waiting in place while the groups are buzzing around below. This is at the Reser during the Beaverton State of the City Address. They served great food!
Resonance Ensemble Cabaret Show "Dirty, Stupid Music"
Resonance Ensemble produced two entirely different programs in Q1, starting with Dirty Stupid Music, an eclectic fundraising cabaret show at Curious Comedy Theatre in Portland, Oregon.
There was a bidding competition on my auction package to do a session, ultimately cellist Diane Chaplin (the Portland Cello Project) came out the winner for this.
These rehearsal photos highlight Portland-based musicians Jessica Israels, Cecille Elliott, and Maddy Ross.
Deena Grossman premiere with the Portland Youth Philharmonic
Composer Deena Grossman had another premiere in January with the Portland Youth Philharmonic (the nation's first youth orchestra!) and it was a HUGE pleasure to watch young musicians play her work. It brought back my own joy at being a talented young musician and being given opportunities to play challenging works with equally enthusiastic peers through my extracurricular musical opportunities at Interlochen Arts Camp and Michigan Youth Symphony. I will have more opportunities to produce work for Portland Youth Philharmonic in future weeks.
Team Photos
Another interesting client project was creating team photos that reflect the fun, capable work done by the therapists at BOLD Pediatric Therapy in Beaverton. I was really drawn to their commitment to support clients and families in an area that has service gaps in the greater Portland area.
We had fun finding ways to pose with different tools/toys in a way that was professional. This job also gave me some practice hauling lighting gear and testing a new setup. (While I like to streamline what I bring on site, I also like to have backups of everything – so I definitely had a wagon full of tools with me for this experience.)
Risa Boyer Architects
I am always delighted to get the call from Risa to update photos for her powerful and creative all-female team of architects and designers. They take on some incredible clients and have work featured in prestigious publications.
RB Architects
Maddy Ross, Director of Renegade Opera
Operatic wonder Maddy Ross also graced the studio with her presence in January. It was an extraordinarily inspired session where Maddy did everything from a nonbinary theatrical look to casual portraits with operatic scores, to etheriel faerie looks, sensual maven look and finally a fun and sparkly look.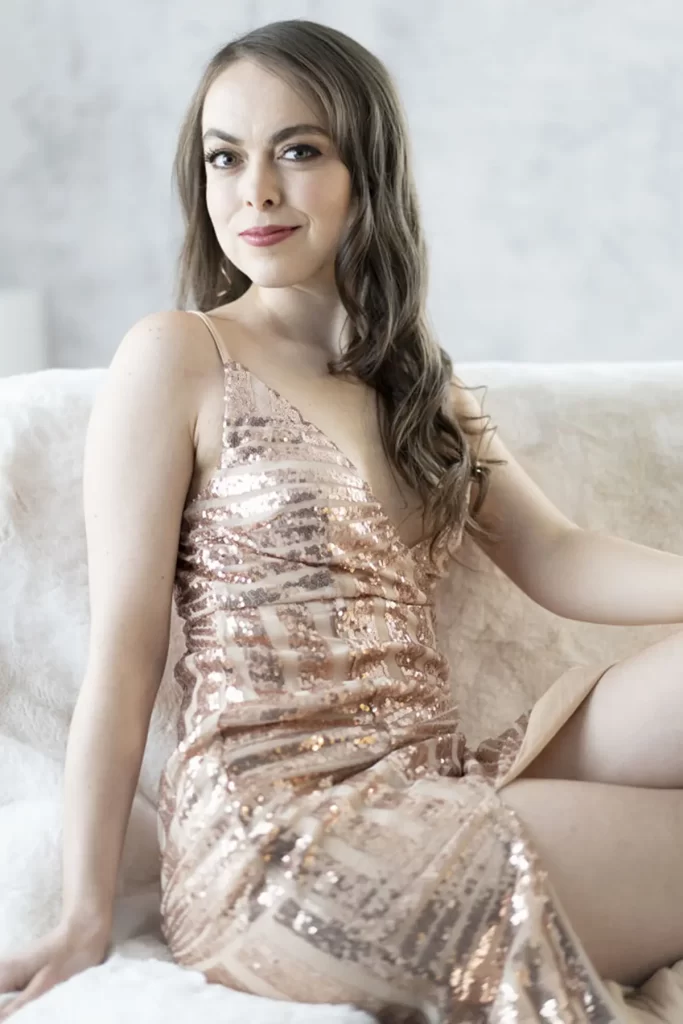 So many wonderful images from her session. Maddy started an unconventional opera company in Portland – Renegade Opera Company.
Conductor and Flautist Wendy Bamonte
In February, Conductor Wendy Bamonte came in with an agenda. We needed to produce a bio photo for her conducting debut at Carnegie Hall! Whew! We also did a couple of alternate looks including a stunning bright green top that looked like a million bucks. She tried out a bit of glam hairstyle at the end, and went a little outside of her comfort zone. I loved talking to her!
The Reluctant Badass
Multilayered and highly intelligent educator Amanda Singer was my most reluctant client in Q1. I met her through Mindy Johnston a couple of years ago, and was intrigued by her personal style and depth of conversation. I was DELIGHTED to receive her inquiry for portraits and even more delighted when she brought in roller skates for some of her photos. "Amanda's work also involves violence prevention, storytelling as engagement in democratic practice, and the role of creativity in the practice of conflict transformation."
HAGSTERS.com
This quarter I also partnered with Rosalee Rester who is launching Hagsters.com and had the opportunity to photograph bold and sassy Oregon personalities Jacki Gethner, Donna Maxey, and Shaina Pomerantz.
PORTLAND PROTESTS
In March, Resonance was back at The Alberta House with local commissions. In a spectacularly introspective and provocative program called Portland Protests, Artistic Director Katherine FitzGibbon and guest conductor Shohei Kobayashi led the ensemble in performing works combining spoken word and orchestration by Kenji Bunch and A. Mimi Sei, Kimberly R. Osberg and S. Renee Mitchell, Judy A. Rose and Vin Chambray as well as an art installation by artist Henk Pander.
Enter Into Calm
Newberg, Oregon based Christy Cowgill hired me outside the studio to document her training event – she wanted to get some natural-looking action shots of herself teaching, and also gift her students with photos of themselves in a clinical role.
In March I also started dipping my toes into video production. With video, you have different lighting needs, and it's a different way of looking at a subject because you can't just edit the background in post production… you have to get it right in camera. Add the level of audio quality into the equation (please don't ask me about how I used a broken lapel mic for an entire year) and huge unwieldy file sizes. I personally enjoy short clips showing behind the scenes of the photo shoot so I will probably continue to add this in for branding clients as a bonus.
I worked with fine jeweler Nicole Raubenheimer of Precious Hammer and Money Coach Dr. Raquel Muller to create promotional film and images.
Another composer? All right!
To my delight, composer Andrea Reinkemeyer also contacted me to do some branding photos. On faculty with a local college, she was looking for something outside the traditional staff photo directory look for her composition site, so we did photos with some of her scores, favorite pencils, and a keyboard. She is local to Sherwood so that was extremely exciting. That day I learned that Mrs Reinkemeyer has somewhat of a cult following amongst saxophonists.
HAP
Organizational systems coach Holly A Perez came down from Washington for some branding photos for her business cards, website, newsletters, upcoming projects and launches.
It has been really exciting to see how Holly put her images to use right away. Holly is someone who takes brand colors seriously, and integrated tools of her trade with her colors for the session.
In March I also did some promotional shots for Mary Lopez Loftin, who was part of my 50 Women Over 50 and the second person to visit my new Sherwood studio location – before we even had a mirror in the dressing room! She is putting together her model portfolio to get into modeling with a Pacific Northwest vibe so we did some photos with power tools, gardening, and some fitness photos with yoga poses and boxing gloves.
Political personality Erin Dobson needed a press kit refresh so we were able to highlight her personality including her signature hair and funky collection of glasses. I learned a lot talking with her!
45th Parallel
I'm still reeling from my first experience photographing out of Straub Collective in Portland, putting together some content for 45th Parallel Universe alongside Cassandra Adams-Harford. With the vision of bright colors and highlighting the musicians' quirky personalities, we are still going through hundreds of images to pull the very best for publicity material for the upcoming concert season. You might consider getting on their newsletter list if you're into the juxtaposition of tradition and novelty – they host concerts everywhere from pleasant garden backyards to stark industrial spaces in Portland and beyond.
Silver Oak Advisory Group
Another creative project was going on location for Silver Oak Advisory Group in Portland, Oregon. This financial advisory firm has created a lovely working environment filled with art and natural colors, beautiful plants, and cozy elements that make it seem much more like a home than a big office tower. The firm's incredible CEO had a vision of including her team's individual personalities into the photos, so we did an alternate headshot of each team member with something fun from their hobby or lifestyle. Notable to me was the kitchenette with an open puzzle on the table as well as good chocolate at the front desk. An almost-family like environment did not preclude their professionalism and experience. It is a truly remarkable company.
Headshots for a Real Estate Agent
March also brought in an opportunity to work with realtor / Principal Broker Krystal Seeley with John L. Scott Real Estate. She was looking for glam styling and knew that I have a stylist for that!
Krystal brought in some cool signage and personal props and we have a beautiful suite of images for her to use in her newsletters and socials as she connects first time homebuyers with their dream of buying their first home. As a bilingual buyer's agent, Krystal brings in some extra skills to benefit her clients.
Other notable clients in Q1 include massage therapist and yarrow farmer Heather Cook, Patent Attorney Hilde Coeckx and Jimmy Gill, a tech consultant with Versoft Consulting.
5,889
The most personally uplifting thing that occurred in Q1 this year was seeing my portraits in print, on the walls in a public space.
Over the past two years I have photographed more than 100 women over the age of 50, giving them a magazine-style portrait session combined with interview questions about aging and beauty and how things change with age. The cumulative age of the 100 official women who were a part of this public celebration was 5,889 — OVER HALF A MILLENNIA. I had a handful of honorable mentions (Ann Medellin, Stephanie Kramer, Vickie G, among others.)
When I began the work, it was deep in the pandemic and we figured out how to observe health protocols while still providing a high level of customer service. I had been marinating on this idea of photographing well-seasoned women for more than a decade and finally got to put it into action!
I have a deep gratitude to the folks at Hillsboro Public Library who made space to display this work in the gallery at Hillsboro Brookwood Library, as well as so much honor for the 100 women who came through my studio and shared juicy stuff about life, love, sex (!!), and caregiving one's self.
Blog post about this installation over at rachelhadiashar.com
It's becoming a bit of a trend to photograph and recognize women over 50, and I am HERE for it. I'm all for throwing shade on the gendered ageism women experience once our skin loses elasticity and our wombs are no longer able to bring forth new life. #NOTDONEYET
Excerpts from the interview collaborations can be viewed at http://rachelhadiashar.com/fifty/